74255 (54) Ilmenite Basalt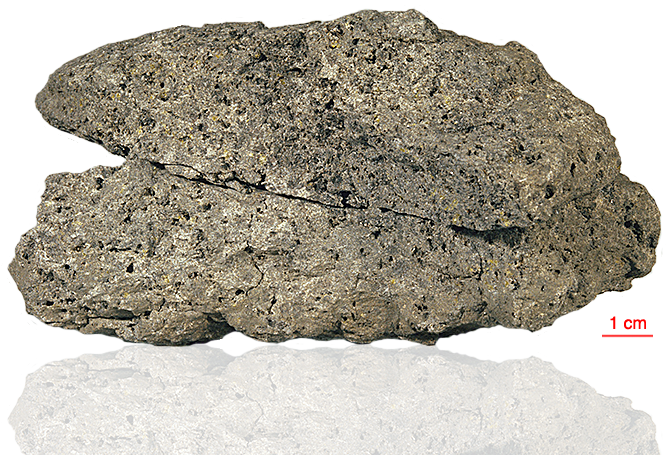 Click the microscope button to view a thin section for this sample.
Microscope
Click the microscope button to view a thin section for this sample.
Microscope
Fact sheet
74255 (54) Ilmenite Basalt
74255 is a vesicular porphyritic, coarse-grained basalt with abundant ilmenite (high-Ti, type C) and is apparently identical to 74275. The crystallization sequence for 74255 starts with armalcolite and Cr-spinel, which are found as unreacted inclusions in both olivine and pyroxene cores. Olivine crystallized next, reacting with the melt to form augite before armacolite ceased crystallization. Ilmenite was next and is included in the augite phenocrysts as they zone to become more Fe-rich, followed by plagioclase and pigeonite which co-precipitated forming bundles of minerals defining the basaltic texture. Fe-rich pyroxene, silica, Na­ plagioclase and potassic mesostatis formed last. Look carefully at rotation 2 for a dark brown crystal of baddeleyite.
The sample weighed 737.6 grams before analysis and is 3.83±0.06 billion years old (Rb/Sr).
 
Further details of this and other Apollo samples are here: http://curator.jsc.nasa.gov/lunar/
About this collection
Apollo 17, the final manned landing mission, had two objectives: to obtain samples of ancient rocks from the lunar highlands and to look for evidence of younger volcanic activity on the valley floor.
This small Collection contains material deriving from both periods, including igneous rocks around 4.3 billion years old from the lunar highlands as well as younger volcanic samples dating from about 3.6 billion years ago.
Apollo 17 was launched on 7 December 1972.